Guardian Series – Red/Black
394.99CAD
The Guardian Series is our signature office gaming chair series which offers an array of premium features.
• Full steel frame construction
• Custom molded high-density cold cure foam cushioning
• 4 Directional cushioned armrest
• Height and backrest adjustment
• Tilt tension adjustment
• Included neck and lumbar pillows
Packaging Dimensions: 88x73x38 cm
Weight: 26 kg
Free Shipping within Canada and USA.
Estimated shipping time: 5 to 7 business days
Includes 10 years manufacturer's warranty
Customer Reviews
05/19/2020
Jean-Philippe G.
Canada
Great but too long shipping
Tracking problem, no respond from UPS. The chair is great, good product
04/21/2020
Rob W.
Canada
Amazing!
Quick delivery! Quality product!
04/15/2020
Keith S.
Canada
Mostly Satisfied
The delivery was fast. The box itself was pretty beat up and had a hole in it (that was probably caused by the delivery guy trying to lift the box to the door) Set up was hard! The instructions were on a one page piece of paper. Some bolts were already ******* into the chair back and had to be unscrewed while others came in a bag (which was what not mentioned in the instructions). Once assembled, the chair looks great, and is quite comfortable. How to attach the lumbar support cushion was also not in directions, and had to be googled to learn the back cushion can be lifted away to put the strap around the cushion and not the whole back. Overall, I have used this chair for two 8 hour shifts at my computer, and my back is very thankful and no longer screaming at me for sitting at a wooden dining room chair. I would highly recommend the chair to friends, it is an affordable (compared to other similar products) and comfortable. I may change the review a couple of months in. For now I am quite pleased and would have given it 5* if it wasn't for the lacking information in the installation.
08/30/2019
Patrick G.
Canada
Great Chair
Really like this chair. I was skeptical at first cause it's my 1st gaming chair but don't regret it one bit. Overall the chair is great quality. My only small drawback is the leather. If you're in a well temperate place no problem but when it's hot, it's kinda sticky. A hybrid mesh/leather would be a really nice addition to the line up of great quality chair. Other than that A+++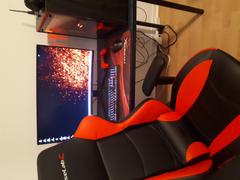 08/09/2019
Shannon H.
Canada
08/07/2019
Scott K.
Canada
Excellent Chair!
Looks Nice, great construction, Super stable and strong. Really comfortable and adjustable. A lot of attention to detail. is very well made. Extra Bolsters on Guardian seat make it more comfortable. Well worth the price difference.
08/03/2019
Henri C.
Canada
PulseLabz and Guardian series are the best! Don't hesitate to buy!
The Guardian series is the freakin' Lamborghini of chairs. Your back will thank you, your friends will hate you because they don't have one and you'll feel like a rockstar sitting in it! Get $75 off and free shipping in Canada with the coupon code: "canada" -Best value for this level of quality for any chair. I've looked at on Memory Express, Newegg, Amazon.ca and nothing compares to PulseLabz (especially with the aforementioned discount code). -Unparalled warranty (10-year warranty vs 1-5 years for everyone else's chairs, often more expensive than PulseLabz). -Easy to assemble if you follow the instructions. -The bolts are NOT in a hardware bag but already attached to the chair. If you're a goon like me who looked for the bolts everywhere then knowing this will help. -More comfortable than any regular office chair by a country mile, even if you're well above average height or weight. -Why are you still reading this? Get one! 👍
Description